School of Health Sciences
Department of Nursing
Fostering nursing specialists with profound knowledge and advanced skills together with an empathetic attitude
Rapid advancement in medicine requires highly specialized nursing professionals to respond to the growing needs in clinical scenes. Future nurses are expected to have both the latest knowledge and skills with flexible adaptability. In order to gain the ability to identify specific needs in various ituations, our curriculum offers students many chances to gain clinical training experiences. Both study and practice help them to become nursing experts with humane empathy. Our aim is to nurture reliable medical partners to take part in team treatment.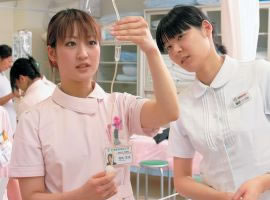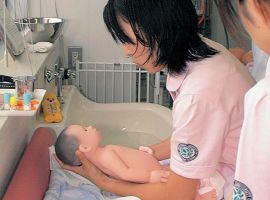 Features of Department of Nursing
Point.1

Active areas for nurses have been expanding from hospitals to care facilities and private homes.

Point.2

Visiting nurses require on-the-job decision making ability, judging from different situations in each home.

Point.3

Nurses are expected to improve themselves in order to promote the quality of nursing.
Four-year Curriculum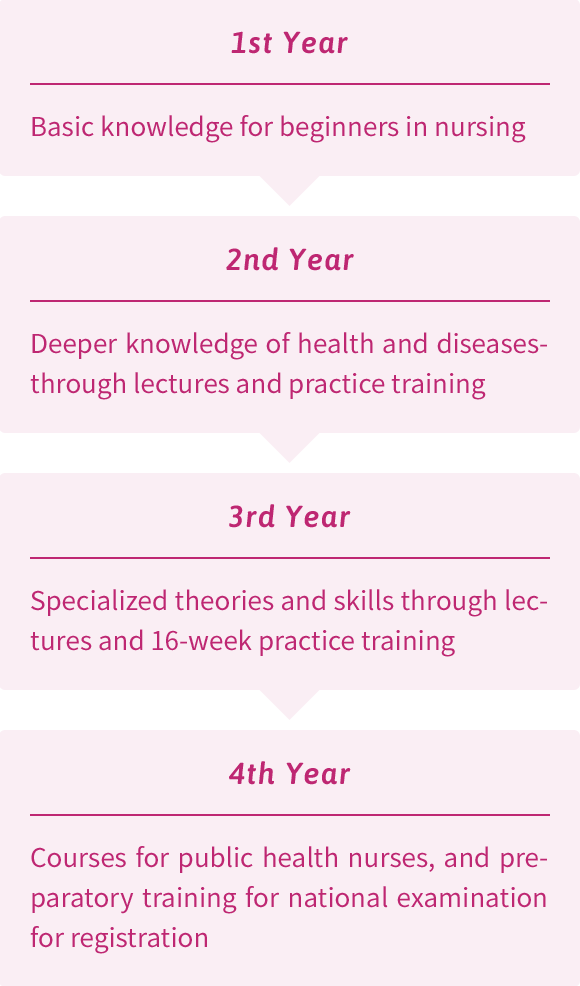 Curriculum Outline
Fundamentals of Nursing Science

Clinical Practice in Basic Nursing Techniques Ⅰ&Ⅱ

Communication Training in Nursing

Clinical Practice of Community Health Nursing

Introduction to Adlut Care and Nursing

Methodology of Pediatric Care and Nursing
National Licenses

Registered Nurse
Public Health Nurse

Expected Places of Work for Graduates

Hospitals and health / medical institutions
Community public health centers
Health administration offices
Home care clinics in companies
Health care clinics in companies
Educational / research institutions
Journalism in health and nursing