International Contribution
and Exchange
With a view to foster health and welfare experts who can make contributions to the people in need all over the world, IUHW organizes various cooperative research projects and overseas training programs.
IUHW students are expected to act with confidence as independent professionals after they graduate wherever they work. In order to expose students to international environment, we have set up a Department of International Relations and International Exchange Center. The organizations conduct international projects and collect information on overseas education and research, as well as organize exchange parties for international students studying at IUHW. The university also accepts full time and short-time students and trainees from various countries including China and Vietnam. International research leaders are also invited to give lectures at our campuses. In addition, the university supports international volunteer activities planned and conducted by IUHW students themselves.
International Cooperation Projects
in Health Sciences
China
Project for Human Resource Development of Rehabilitation in the Central and Western Region in China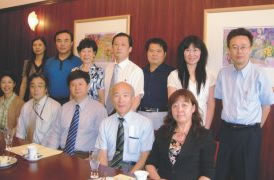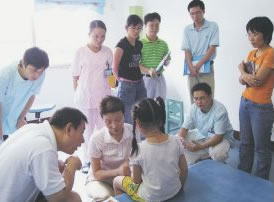 As a result of rapid economic growth and industrialization in China, heavy traffic and workplace accidents have led to an increasing population of the physically disabled, with numbers reaching up to 82 million in recent years. However, the shortage of rehabilitation professionals is a constant problem and, therefore, training such specialists is an urgent requirement.
A training project for rehabilitation professionals in China was organized by JICA (Japan Industrial Cooperation Agency) in 2001, which was active up to 2006. JICA, together with the National Rehabilitation Center for the Disabled, set up a model system to foster specialists in rehabilitation in the three districts of Mid-west China. IUHW became the substantial successor to that project. This project aims to improve the quality of rehabilitation services.
IUHW has been sending its faculty members as advisors. These faculty members are introducing methodological knowledge. IUHW has developed a new curriculum for the teaching staff and has set up a training practice program for teaching methods. Trainees from the China Rehabilitation Research Center have continued to further their educations at the IUHW Graduate School.
Myanmar
Project on development of human resources in the field of healthcare in Myanmar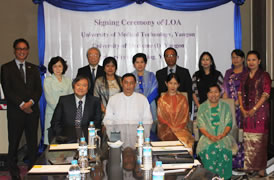 Recently, remarkable economic growth has been seen in Myanmar, and further progress will be expected through the development of democratization and the improvement of international relationships with foreign countries. Along the opening of the country to the world, the improvement of education in the medical field and the enhancement of the medical standard are urgently needed.
IUHW has supported human resource development especially in the field of healthcare in Myanmar. We have offered technical cooperation in order to improve the quality of rehabilitation at the National Rehabilitation Hospital in Myanmar, through dispatching our faculty members and accepting trainees since 2008.
We have welcomed seven students from Myanmar to the graduate school since 2013, with unique full scholarship system which widely covers the cost from tuition fee to living expenses. Our university concluded an academic interaction agreement with three top-class national medical universities in Yangon (University of Medicine 1, University of Medical Technology and University of Nursing). By doing so, we are strengthening the mutual exchange of faculty members and students between the two countries.
Based on these friendly relationships between Myanmar and IUHW, We held Myanmar-Japan Healthcare Symposium in July 2014.
Students from abroad studying at IUHW
Ms. Yi Jingjing
From the People's Republic of China3rd year student in Department of Physical Therapy, School of Health Sciences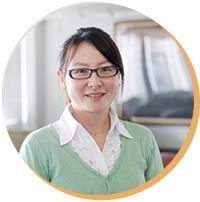 "I am pursuing my dream to become a pharmacist, all the while experiencing Japanese language and culture"
My father who is undergoing rehabilitation in China sparked my interest in Japanese rehabilitation. I chose IUHW because of its students' high national examination pass rate and employment rate, as well as its extensive lineup of learning and economic supports for international students. While I was worried at first, my anxieties about the Japanese language have disappeared as the teachers teach you very carefully. I often get together and exchange information with other international students, and I am having a good time. Enrolling in IUHW has made me realize the advanced level of physical therapy in Japan. In the future, I hope to provide physical therapy in China.
Mr. Roh Taehyung
From the Republic of Korea2nd year student in Department of Pharmaceutical Sciences, School of Pharmacy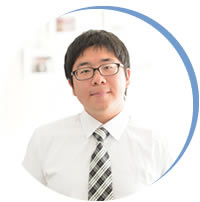 "I am pursuing my dream to become a pharmacist, all the while experiencing Japanese language and culture"
I have been studying Japanese and have had interest in Japan since high school. I could have studied pharmaceutical sciences at a Korean university, but I thought, why not study pharmaceutical sciences using the Japanese that I learned while experiencing a different culture. That led me to take the Examination for Japanese University Admission for International Students (EJU), which I passed. I then received a scholarship from the Japan Student Services Organization (JASSO). I have made many Japanese friends after enrolling in IUHW, and the teachers are kind. This has all been very reassuring. While I often stay at school until late in the evening to study on weekdays, on other days I go out to see my favorite architectural structures like castles and temples and enjoy a refreshing break from my studies. During my next long holiday, I hope to visit Osaka and Nijo Castles. My goal now is to brush up my conversation skills during the six years I'm in Japan, and after graduating, return to Korea and become a pharmacist.
Ms. Keomany Paloma
From the Lao People's Democratic Republic4th year student in Department of Social Services and Healthcare Management, School of Health and Welfare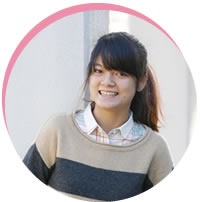 "Supported by my friends, my hope is to go onto graduate school"
I enrolled in IUHW because I wanted to study about the Japanese medical insurance system and medical services. I have a scholarship from the Asia-Pacific Ladies Friendship Society (ALFS). While this puts pressure, this also gives me motivation. Although I was initially worried I would not be able to follow the technical courses taught in Japanese, I had the support of my friends who taught me Japanese and checked my reports for any grammar or typographical errors and omissions prior to submitting them. Therefore, I was able to pass the Management Qualification Test which examines whether you have the necessary knowledge for the management of hospitals. After graduating, I intend to go to graduate school and further study about medical systems and hospital function evaluations. In the future, I hope to contribute to the improvement of medical services in Laos.
Scholarship for International Students
at IUHW
IUHW is a university to foster health professionals besides medical doctors, and our aim is the advancement of the social status of health and welfare professionals in clinical scenes. We welcome foreign students who will be core experts in leading the medical situations in their own countries after learning at IUHW. Therefore, IUHW offers a full scholarship and other course fees assistance. Furthermore, some other forms of financial assistance are available from other related institutions. Students who have received these assistances are to go back to their own countries after graduation to work for the development of the health and welfare systems in order to contribute to the improvement of clinical situations.
Details fof foreign students who received IUHW full Scholarship
2001

1 Nursing student from Vietnam,
1 Health Service Management student from Nepal

2003

1 Health Service Management student from Mongolia

2004

1 Nursing student from the Union of Myanmar

2005

1 Health and Social Services student from the Republic of Korea

2006

1 Health Service Management student from Cambodia

2007

1 graduate student in Health and Welfare, and Health Service Management from Vietnam

2008

1 Physical Therapy student from the Republic of Indonesia

2009

1 Nursing student from Mongolia

2010

1 Social Services and Health Management from the Lao People's Democratic Republic

2012

1 student in Social Services and Health Management from Mongolia

2012

1 graduate student in International Cooperation in Health and Welfare section from Myanmar,
1 graduate student in Physical Therapy section from Myanmar,
1 graduate student in Medical and Biopharmaceutical Science section from Myanmar,
1 graduate student in Health Service Management section from Cambodia
Services for International
Students
Supporting System
Undergraduate students with "student" visa can receive waivers of up to half of their tuition and course fees (other fees apply). To some extent, the waiver of school expenses for graduate students is also available.
Foreign students with IUHW Bachelor's Degree who intend to study further at IUHW Graduate School are to be remitted all of their entrance fee.
Several private agencies and local autonomous bodies offer various types of scholarships for foreign students.
When students join the National Health Insurance, 70% of their medical bills are covered by the insurance. In addition, the IUHW Parents Association can support the students by covering the rest of the 30%, which means there is no need for foreign students to worry about medical expenses. For that privilege, each undergraduate pays 30,000 yen per year to the association, which is compulsory. However it is optional for graduate students.
International Exchange Center
On our Otawara Campus, there is a section called the International Exchange Center, where full-time staff awaits foreign students, who are well taken care of. The following is a list of what is offered at the center.
1. Japanese Language Classes
Teachers who specialize in Japanese language teaching offer Japanese classes for foreign students. They offer not only classes but also any help and support concerning language problems the students might face.
2. Visa
When students need help in applying for and acquiring a visa, extending and renewing their visa, and for permission for other activities, the center staff is always there to help them.
3. Residence
Students are advised to join and receive the benefits from the Total Housing Compensation System. The City of Otawara has its own housing policy, and foreign students are welcome to stay in city- owned houses with very low rent. However, two students live in each house, and the number of houses is limited. The center is ready to find guarantors, who are required for the students to sign the contract with the city office.
4. Exchange Parties
The center plans several parties for foreign students, so that they can get to know each other and learn to support one another. Japanese students are also invited, so that students on campus, whether you are Japanese or not, can all be good friends.
5. Host Families
Staff and faculty members become host families for foreign students. They are ready to respond to the requests of the students when they need help in their studies or in other daily social activities.
Campus Calendar
The school year begins in April, and there are two semesters in a year.
April

Entrance ceremony

Orientation

Beginning of the first semester

May

Founders' Day (Holiday for IUHW)

Sports Day

July

Final examinations for the first semester

Completion of the first semester

(at the end of the month)

Summer vacation

September

Beginning of the second semester (at the end of the month)

October

Exchange party

School Festival

December

Christmas Party

Winter vacation

January

Final Examinations for the second semester

Completion of the second semester

(at the end of the month)

February

Spring vacation

March

Graduation ceremony