School of Health Sciences
Department of Occupational Therapy
Searching for further possibilities and enhancing competence ?occupational therapists to work with "mind" and "body"
Occupational therapists support people with mental and/or physical disorders, with the goal of restoring their independence. Occupational therapists look for further possibilities in each individual by observing and analyzing scientifically so that the client can acquire new skills for his/her new daily life. Our field covers a wide variety of activities such as health, medicine, and welfare as well as education and research. Our department offers six rehabilitation courses so that students can have as many chances as they want in order to gain the knowledge and skills needed to work in hospitals, medical facilities, community centers and private homes. In addition, clinical training in hospitals and facilities help students with practical experiences. Our vision is to foster occupational therapists who understand their clients' will and wishes for their future by supporting them in every way they can.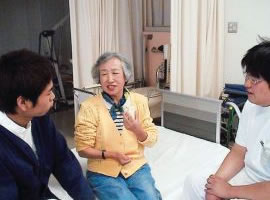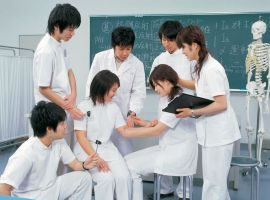 Features of the Department of Occupational Therapy
Point.1

"Occupational" means skills and abilities that can support people's daily lives. People with such disorders tend to feel left out of society, but with the help of occupational therapists, they can rebuild their own lives with their newly-gained skills.

Point.2

Activities differ according to the three domains: acute, recovery, and retaining periods.

Point.3

The core of the activities is to be with clients, to get to know their previous ways of living, to work with them to regain independence, and to assist them in acquiring functional restoration.
Four-year Curriculum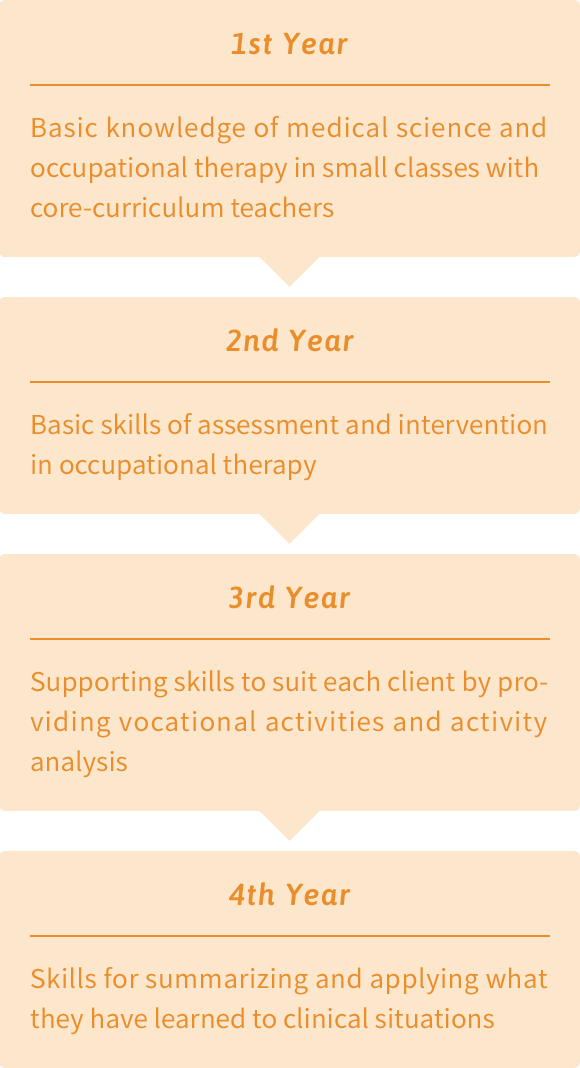 Curriculum Outline
Basic Courses of Occupational Therapy

Courses of Occupational Therapy Assessment and Intervention

Courses of Adaptation Skills

Courses of Occupational Therapy Applications for Actual Daily Life

Courses in Compensation Skills

Clinical Training
National Licenses
Expected Places of Work for Graduates

Hospitals and rehabilitation centers
Public health centers
Nursing facilities and day-care centers
Group homes, assisted living centers
Community mental health centers
Centers for child development