School of Health Sciences
Department of Orthoptics and
Visual Sciences
Orthoptists with profound knowledge and advanced skills to overcome problems in opthalmology
Orthoptists are important members within the medical team who pertain fundamentally to evaluation and non-surgical treatment of patients with disorders of vision, eye movement and eye alignment. In the rapidly advancing world of ophthalmology, the need for experts to protect sensitive human eyes has been growing. Our goal is to foster orthoptists who can make the best use of their knowledge and who always try to learn the latest scientific information. Our fieldwork practice offers students many chances to be with patients and to trace both their difficulties and their joys. As a responsible medical partner, an orthoptist is ready to support the importance of "seeing" and "being able to see" as one basis of each person's quality of life.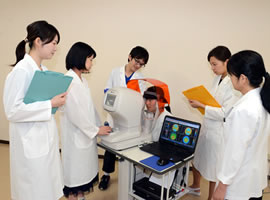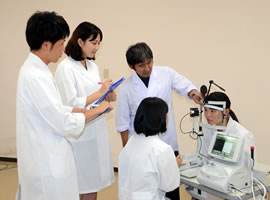 Features of the Department of Orthoptics and Visual Sciences
Point.1

Orthoptists provide diagnostic and therapeutic assessments of patients with strabismus, amblyopia, diplopia and disturbances of the binocular function.

Point.2

Our program puts emphasis on neuro-ophthalmology.

Point.3

Our Low Vision Program is newly designed.

Point.4

Our Optics Program deals with physiological and practical aspects of optics as well as basic optical principles.
Four-year Curriculum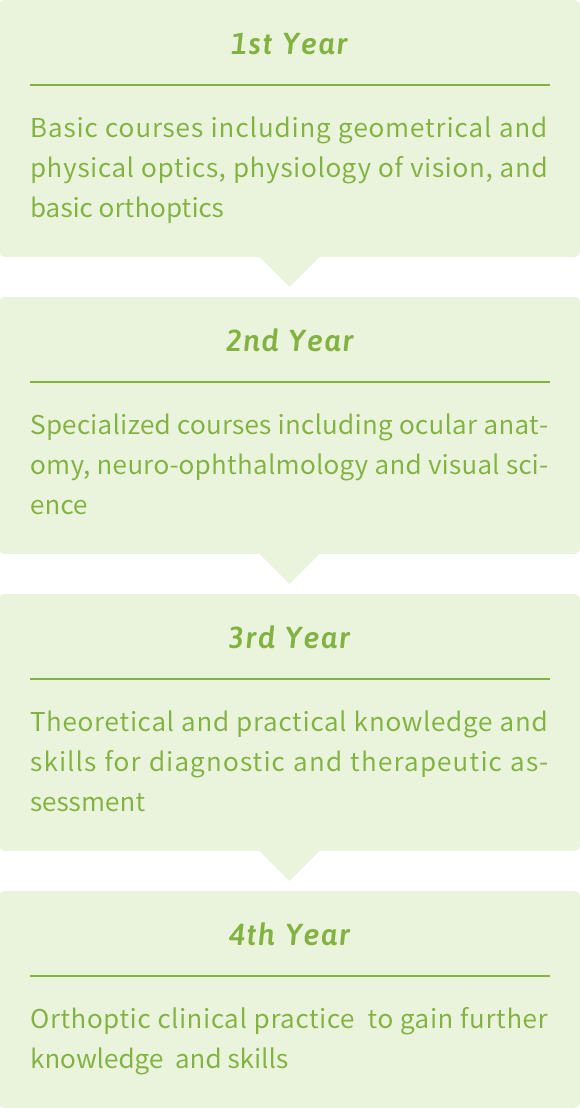 Curriculum Outline
Basic Orthoptics for Visual Alignment

Physiological Optics(Clinical Training)

Electrophysiology(Clinical Training)

Neuro-ophthalmology I(clinical Training)

Low Vision and Optics
National Licenses
Expected Places of Work for Graduates

Medical institutions
Rehabilitation centers
Ophthalmological clinics
Health administration facilities
Medical industry and medical equipment manufacturers
Educational/research institutions