School of Health and Welfare
Department of Social Services and Healthcare Management
Professionals to support and assist individuals' wellbeing with specialized knowledge and skills in health, welfare and medical management
Japan has become a nation of the longest-lived people. In this rapidly aging society, everybody has the right to enjoy his/her own wellbeing in daily living, whether with or without health problems, and there is a great demand for the contribution of certified welfare and medical specialists. In health and welfare services, specialists who can make the best use of limited resources for people in need must have good management capabilities. Our department trains students to be such experts both in medical care and management.
Features of the Department of Social Services and Healthcare Management
Point.1

Our aim is to foster health service professionals to respond to the needs of Japan's aging society for the wellbeing of every individual.

Point.2

Clinical training experiences in many medical institutions are well-supervised by the teaching staff.

Point.3

Management skills to support medical institutions and facilities are required all the more during recessions.

Point.4

Our goal is to help our students obtain successful accomplishment in state examinations and in employment opportunities.
Four-year Curriculum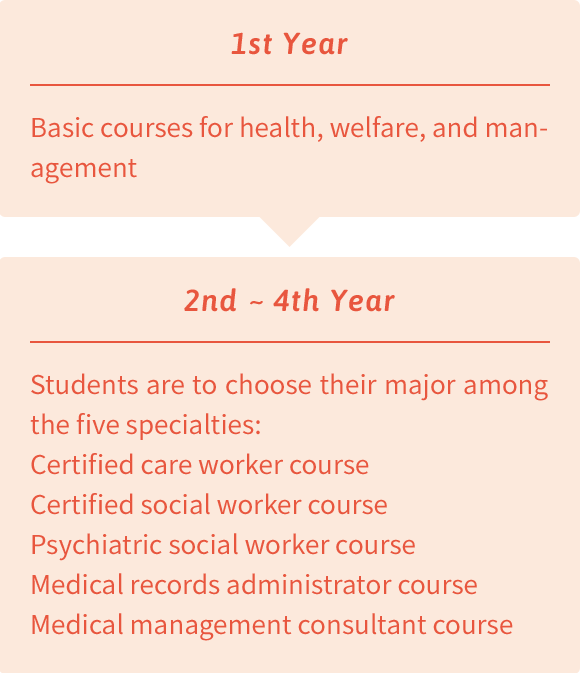 Four-year Curriculum with Five Specialties and Their Goals
(1) Certified Care Worker Course

Care workers with highly specialized knowledge and skills in providing care and well-managed services

National Licenses
Expected Places of Work for Graduates

Social Welfare institutions
Social Welfare administration and service agencies in communities
Home care service facilities
(2) Certified Social Worker Course

Social workers to help people with various problems so that they can cope with such problems and lead happier lives on their own

National Licenses
Expected Places of Work for Graduates

Consulting work in welfare intitutions for the elderly, the handicapped, and children
Social welfare administration and service agencies in communities
Welfare organizations
(3) Psychiatric Social Worker Course

Psychiatric social workers to support people's wellbeing focusing on mental health (It is possible to have both PSW and SW certificates.)

National Licenses

Psychiatric Social Worker

Expected Places of Work for Graduates

Psychiatric social workers in general hospitals and in hospitals with psychitry departments
Consultants in facilities for social rehabilitation
Consultants in companies, schools, and judiciary agencies
Administration and service agencies
(4) Medical Records Course

Experts in office management and medical records management

Authorized License

Medical Records Administrator

Expected Places of Work for Graduates

Administration departments in hospitals such as office management, medical records, and medical security
(5) Medical Management Consultant Course

Systems administrators in medical and welfare institutions, and business persons in the medical industry (Several qualifications relating to financial accounting and health insurance can be acquired in four years.)

Authorized License

Medical management Consultant
Bookkeepig

Expected Places of Work for Graduates

Hospitals and welfare institutions
Consulting agencies for medical management
Companies and business corporations