School of Health Sciences
at Odawara
Department of Nursing
Fostering nursing professionals with creativity and competence to respond to health needs in globalized societies
In this era of rapidly advancing medical technology and developing ideas of team treatment, nursing professionals now play diversifi ed roles in medical scenes. Well-educated and skilled specialists are in great demand. We aim to foster medically sophisticated nurses with the ability to make accurate judgments and who have good communication skills. In order to respond to the client's individual needs, students are trained in clinical environments such as in hospitals and medical institutions. When they graduate they are ready to work as experts with knowledge and competence.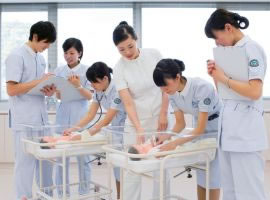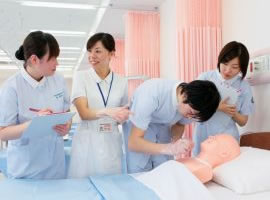 Features of Department of Nursing
Point.1

Our educational goal is to foster nurses with practical skills.

Point.2

Master Program and PhD Program are set up on campus.

Point.3

Our ultimate goal is to nurture specialists to fulfill the health needs in the globalized society.
Four-year Curriculum

Curriculum Outline
Fundamentals of Nursing Science

Courses for Nursing Profession

Theories and Methods of Nusing Techniques

Laboratory Practice

Clinical Training

Nursing English / Family Nursing / International Nursing
National Licenses

Registered Nurse
Public Health Nurse
(Additional application for Second-Grade School Nurses and First-Class Public Health Administra-tors is available)

Expected Places of Work for Graduates

Health and/or medical instiutions
Community public health centers
Health administration offices
Home care nursing stations
School nurses in educational institutions
Health care clinics in companies
Educational/research instiutions