School of Health Sciences
at Odawara
Department of Physical Therapy
Future rehabilitation professionals with specialized knowledge and skills to be members of the 21st-century medical team care
Diseases, accidents and aging can damage people's abilities in daily activities. Physical therapists are there to support and assist such people to recapture their wellbeing in life in the course of their recovery. Due to the application of Nursing Care Insurance, the scope of physical therapists is expanding from rehabilitation to health, welfare, sports, and emergency services. We foster specialists not only with profound knowledge and medical skills but also with good communication skills in order to cooperate with other medical professionals and to develop good relationships with clients. In addition, we believe medical professionals must have well-balanced personalities to care for others both mentally and physically. Students are expected to train themselves during on-the-job training practice and to become experts in order to contribute to their communities.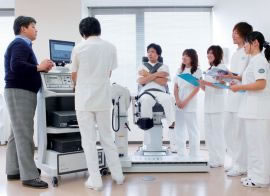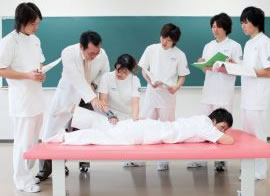 Features of the Department of Physical Therapy
Point.1

Our goal is to foster physical therapists who can cope with the needs of a diversifi ed society

Point.2

Our future PT experts must contribute to individuals' wellbeing as well as needs of communities.

Point.3

Students and faculty members have a unified spirit in order to support each other in times of need.
Four-year Curriculum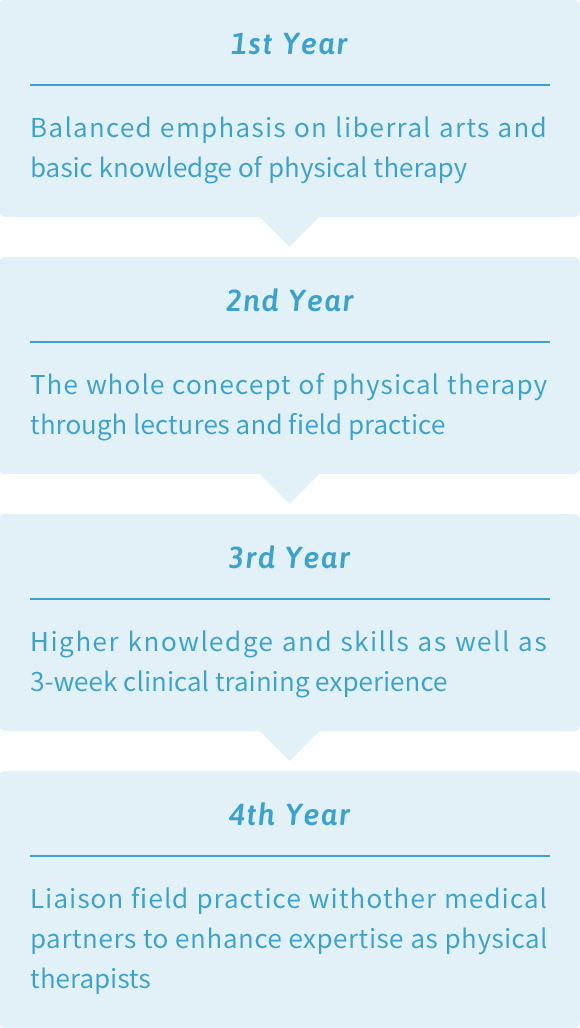 Curriculum Outline
Exercise Physiology

Clinical Kinesiology

Neurological Physical Therapy

Sports Physical Therapy

Geriatric Physical Therapy

Specialized Skills in Physical Therapy
National Licenses
Expected Places of Work for Graduates

Health and/or medical institutions
Community public health centers
Health administration offices
Nursing homes / group homes for the elderly
Medical equipment industry
Health promoting centers
Educational / research institutions