School of Health Sciences
at Fukuoka
Department of Physical Therapy
"Experts" in the true sense of the word, who can respond to the needs of society with the latest rehabilitation skills
Physical therapists work to promote the quality of life of people with disabilities through rehabilitation. As the emergence of new diseases and the aging society have brought rapid changes in how people live, physical therapists also face new roles that they must play in such changes from hospitals to home care and to community health and welfare. With the help of teaching staff in clinical training courses our aim is to foster experts in the rehabilitation fi eld. In addition, physical therapists must have skills in communicating with other co-medical professionals in a team treatment environment as well as specialized skills in contributing to our communities.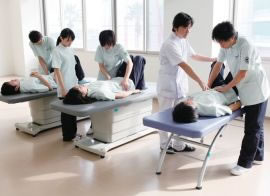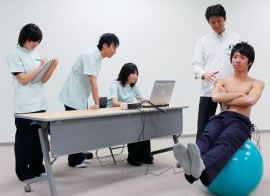 Features of the Department of Physical Therapy
Point.1

Physical therapists must have knowledge and skills to support "activities of daily living" and "quality of life" of people with handicaps and disabilities.

Point.2

Basic medical knowledge such as anatomy, physiology, and neurology is fundamental in physical therapy.
Four-year Curriculum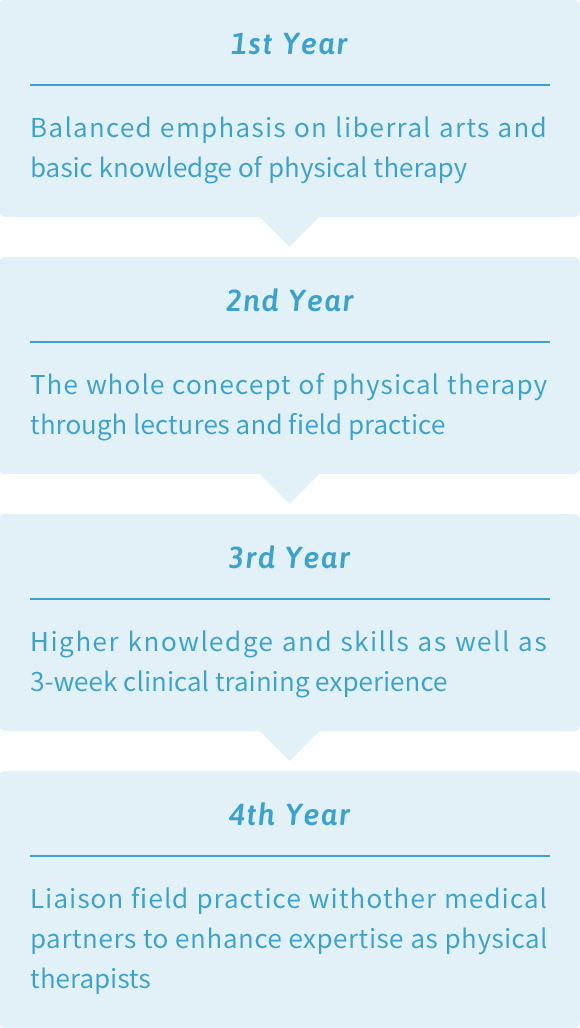 Curriculum Outline
Physiology

Human Development

Clinical Kinesiology

Sports Physical Therapy

Respiratory and Cardiovascular System Physical Therapy

Evaluation and Assessment in Ohysical Therapy

Neurological Physical Therapy

Clinical Training
National Licenses
Expected Places of Work for Graduates

Health and/or mediacl institutions
Community public health centers
Health administration offices
Nursing homes / group homes for the elderly
Medical equipment industry
Health promoting centers
Educational / research institutions