School of Health Sciences
at Fukuoka
Department of Occupational Therapy
Occupational therapists who can support the reconstruction of daily life based on scientifi c analysis and who can impress and motivate client
Occupational therapists support people with mental and/or physical disorders. Their goal is to restore their clients' independence. Occupational therapists need to give clients confi dence and motivation to challenge themselves. In other words, their empathetic "heart" is required to effectively support their clients. We ask students to fi nd answers to the question of "how people should live." Our courses include a variety of activities and game playing as well as theories and methods. Our aging society requires experts who can adopt new ideas with ? exibility based on scientifi c analysis. Our aim is to foster such leading therapists in order to promote and protect people's lives.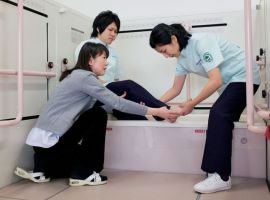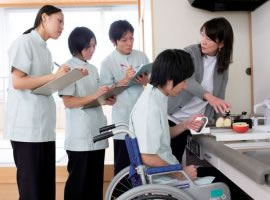 Features of the Department of Physical Therapy
Point.1

Occupational therapists must reach out and influence people both mentally and physically.

Point.2

Occupational therapists are experts with practical abilities in clinical treatment.
Four-year Curriculum

Curriculum Outline
Basic Courses of Occupational Therapy

Courses of Occupational Therapy Assessment and Intervention

Courses of Adaptation Skills

Courses of Occupational Therapy Applications for Actual Daily Life

Courses in Compensation Skills

Clinical Training
National Licenses
Expected Places of Work for Graduates

Hospitals and rehabilitation centers
Public health centers
Health adminstration offices
Nursing facitities and day-care centers
Group homes,assisted living centers
Community mental health and rehbililtation centers
Centers for child development
Educational institutions width special classes