School of Health Sciences
at Fukuoka
Department of Speech and
Hearing Sciences
Hope for tomorrow with language communication skills and recovery of eating and swallowing functions
Speech-language skills are an essential communication tool for our social life, and they also play an important role in human inner development of thinking and feeling. Speech therapists are specialists in examining, assessing, training and coaching people with speech-hearing disabilities and swallowing problems. Our new curriculum enables students to gain knowledge and skills for the rehabilitation of language. Students acquire practical skills through clinical training courses. Though the national certifi cate for speech therapists is quite new, the need for this profession is growing rapidly in accordance with the aging society. Not only in hospitals and medical institutions, speech therapists also help people after discharge by supporting them. Speech therapists bring the "hope" of living well to people with speech and hearing disabilities.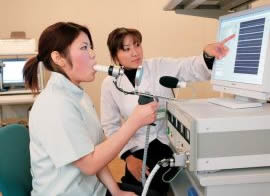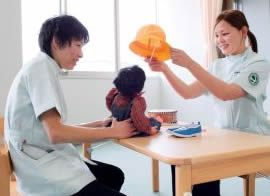 Features of the Department of Speech and Hearing Sciences
Point.1

Our department is the one and only university in Fukuoka prefecture to train speech therapists with an excellent teaching staff and clinical training facilities for practice courses.

Point.2

Our goal is to foster speech therapists who are always willing to embrace new ideas, and most of all who can cherish their clients.
Four-year Curriculum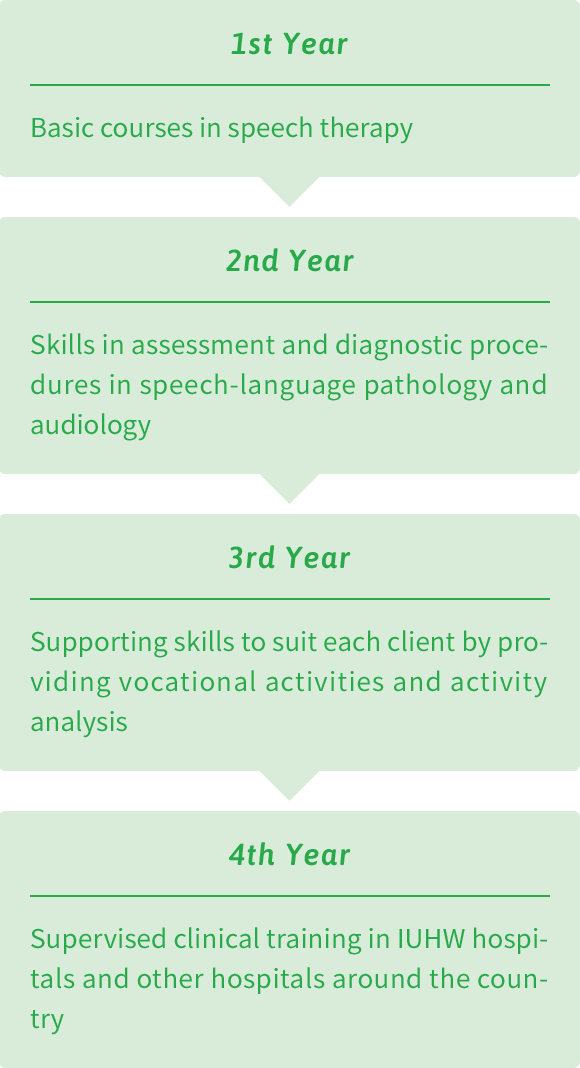 Curriculum Outline
Aphasia and Functional Brain Disorders

Dysacusis and Hearing Disorders

Developmental Disorders in Speech an Language

Adult Speech Disorders

Speech and Phonation Disorders

Athrocytosis and Swallowing Disorders

Senior Thesis
National Licenses
Expected Places of Work for Graduates

Hospitals
Rehabillitation centers for both in-an out-patients
Educational facillities for children with communication handicaps
Facillitie for the elderly
Nursery for infants width hearing disorders
Special classes in regular schools
Communcation equipment industyry
Educational/reserch institutions